Rack mount LCD console drawer with 19 inch LCD monitor
SMK-520S19 with 19 inch, high contrast ratio, fast response, wide viewing angles LCD monitor enables you to control large computer networks using a single keyboard, monitor and mouse.
SMK-520S19 is a 1 rack unit, rackmount, slide-out keyboard drawer that provide a combination of a flip-up LCD monitor, keyboard, in a space-saving clamshell design. Ball-bearing slide rails let you effortlessly pull out the keyboard tray to access the LCD and keyboard for operation. The LCD monitor flips up for use and folds down for storage.
19" LCD Rack Console Drawer
SMK-520S19 Rack Mount Keyboard Video Mouse Drawer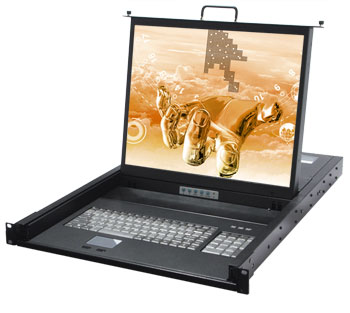 Keyboard monitor mouse rack console drawer.
19" LCD monitor, 1280x1024 optimum resolution.
1000:1 contrast ratio, 160 degrees viewing angles, 5 ms response time LCD.
Fold-down flat panel LCD.
Supports PS/2 keyboard/mouse interface.
Easy access control buttons for LCD on-screen-display menu.
Ball-bearing slideout keyboard tray with 25.5" to 38.75" extension mounting brackets.
One rack unit height.
Space-saving Server Rack LCD Console for Data Centers
The SMK-520S19 is a monitor keyboard rack console featuring a combination of a flip-up LCD monitor, keyboard, mouse in a space-saving clamshell design. The SMK-520S19 fits in a standard, 19-inch rack configuration taking up just 1 rack unit space. The slide-out panel and keyboard tray is shipped with ball-bearing slide rails already mounted on the unit. Rack mounting brackets can be extended from 25.5" up to 38.75", accomodating a wide range of equipment racks with different depths. And its low power consumption leaves more power for servers and storage.
With its clamshell design, the keyboard tray slides out for LCD and keyboard access and remain hidden when not in use. The LCD panel flips up for use and folds down for storage.
19-inch High Quality LCD
The SMK-520S19 comes with a 19 inch SXGA (1280 x 1024 pixels) flat panel LCD monitor. The LCD has a 1000:1 contrast ratio so you'll be able to distinguish the subtle shades of color or gray in your graphics images. The LCD's lower power consumption and EMI free technology makes it ideal for industrial applications. An on-screen display (OSD) menu using four control buttons let's you adjust the display for optimum viewing. There is also a switch to turn off the backlight to prolong the service life of the LCD monitor.