MPC-2900 Rugged Portable Workstation
20" IPS LCD and Dual Multi-core Processors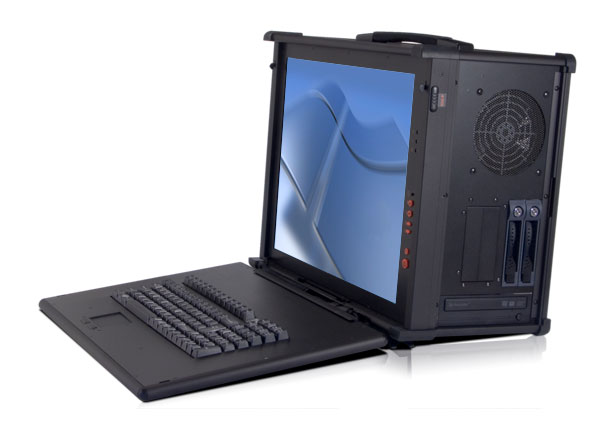 Custom-build and expandable portable workstation.
Aluminum alloy construction.
Supporting ATX and Extended ATX system boards.
Supports single and dual CPU configurations.
Multiple PCI and PCI-Express slots for add-on cards.
Integrated 20.1" IPS LCD with 1600x1200 resolution.
Four removable drive bays supporting SATA or SCSI hard disks.
Two 5.25" drive bay for optical disc drive and hard drive mobile rack.
Two shock-mount 3.5" drive bays for hard drive and floppy drive.
Self-contained portable PC workstation solution
What's included in a basic configuration:
Rugged, aluminum alloy portable chassis.
20.1 inch IPS LCD monitor.
Dual multi-core processor.
8 GB system memory.
Integrated I/O and RAID.
320 GB SATA hard drive installed in a removable tray.
DVD burner.
650 watt ATX power supply.
Carrying case with wheels.
The MPC-2900 is a portable workstation designed to pack the highest desktop PC performance in a portable package. Its spacious internal layout supports Micro-ATX, ATX and Extended ATX motherboards, up to four removable hard drives, and high end PCI-Express graphics.
The MPC-2900 comes in a road-ready lunchbox style portable enclosure. The rugged computer chassis is constructed of aluminum alloy. Corner rubber bumpers help to absorb shock during transport, or in the field. The keyboard folds out for use and includes a touchpad mouse. A 650-watt or larger PSU for dual-processor systems. A rubber-clad carrying handle makes carrying the system easy, and a luggable carry case with wheels let you transport the system over long distances.
Expandable and upgradable system features using COTS components
The MPC-2900 offers flexible system configuration using the latest COTS (commercial off-the-shelf) PC components. It packs powerful workstation-class computing capability using the latest processor technologies by Intel and AMD.
There are four removable drive bays supporting SATA or SCSI hard drives, so you can use integrated or hardware RAID controllers for RAID configurations. Video production and CAD professionals can utilize its PCI-Express x16 slot to add powerful GPU, and its 1600x1200 resolution, 20.1" LCD monitor for high resolution graphics applications.