Rugged Mobile Computing Platform
MPC-9000 Dual- and Quad-Core Processor Lunch Box Portable Computer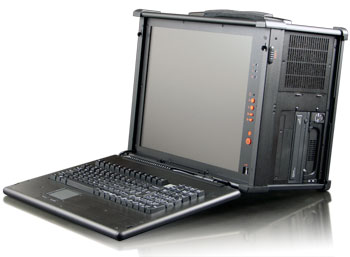 Ruggedized portable computer supporting ATX form-factor motherboards.
Configurable with latest dual-core and quad-core processors.
Available with multiple PCI-X and PCI slots for legacy add-on cards.
Integrated 17" active matrix flat panel display.
Four drive bays for hard drive and optical read/write devices.
Fold-down keyboard with pointing device.
650-watt standard power supply.
Self-contained mobile computing solution
What's included in a basic configuration:
Rugged portable system chassis.
17 inch LCD monitor.
Intel or AMD multi-core processor.
8 GB system memory.
Integrated graphics.
Integrated I/O.
250 GB SATA hard drive.
650 watt ATX power supply.
Keyboard and touchpad mouse.
Carrying case with wheels.
The MPC-9000 is a compact, self-contained portable computer ruggedized for mobile computing applications in harsh environemnts. The lunch box style ruggedized computer chassis is constructed of aluminum alloy. Corner rubber bumpers add to its protection against bumps and shock.
The enclosure features a 17" active matrix flat panel display, fold-down keyboard, touchpad mouse, four drive bays and a 650-watt ATX power supply. Internally, there is room for an ATX form-factor motherboard. A fully configured MPC-9000 provides a totally integrated portable workstation ready to be deployed in industrial and field environments such as telecom field service, data acquisition and test applications.
There is a durable, rubber-clad carrying handle on the top that makes carrying the system easy. A padded carrying case with wheels and telescopic handle is included for long-distance transportation of the system.
Expandable and upgradable system features using COTS components
MPC-9000 is designed to take advantage of commercial-off-the-shelf (COTS) components for its substantial expansion and upgrade potential. The motherboard supports current dual-core and quad-core processors. There is PCI-Express x16 slot or dual x16 slot for graphics cards when you need to run graphics intensive applications. SATA and RAID interfaces give you high data read/write speed and let you upgrade to a fault-tolerant configuration. And four available drive bays lets you assemble your system with multiple hard drives, optical read-write devices and multiple hard drives in a RAID configuration.