Rackmount LCD Monitor Keyboard Drawer with 17" LCD and Built-in TV Tuner
DKM-SX17T Flip-up LCD Monitor, Pull-out Keyboard Drawer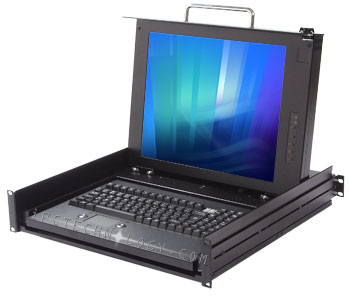 Industrial rackmount LCD monitor, keyboard, mouse.
Built-in TV tuner.
Pull-out rack mount drawer design for 19 inch racks.
2U rack high form factor.
Flip-up 17" LCD, SXGA resolution @ 1280 x 1024 pixels.
Built-in speakers and audio input jack.
Front bezel control buttons for display adjustments.
Pull-out keyboard drawer offers 19.5" to 32" extension mounting brackets.
The DKM-SX17T integrated LCD monitor keyboard drawer is a rack-mountable server management console that also includes a built-in tuner for CATV video signal reception. It occupies only 2 rack unit space using a flip-up LCD flat panel monitor design. The DKM-SX17T LCD monitor keyboard drawer offers a space-saving alternative to store three frequently used peripheral devices of a typical data center or server management environment—monitor, keyboard and mouse. And now, it doubles as a TV monitor
The DKM-SX17T includes a built-in TV tuner and AV inputs. It's useful as server management console as well as a display monitor for your composite video, S-video, analog cable/antenna signals. Stereo audio, analog VGA inputs are supported.
The LCD monitor keyboard drawer is mounted on slide rails so you can easily pull the unit out of your equipment rack. The LCD monitor flips up for use and folds down for storage. The DKM-SX17T LCD monitor keyboard drawer has a 17" SXGA high resolution flat panel display. The LCD's lower power consumption and EMI free technology makes it ideal for industrial applications. And with its native resolution of 1280 x 1024 pixels, you can work more and scroll less, because you can put more information on screen instead of cluttering it with menus and tool bars. An on-screen display (OSD) menu using four front-panel-mounted control buttons let's you adjust the display for optimum viewing.
The entire LCD monitor keyboard drawer is constructed of metal for ruggedness. With the rear mounting brackets that can be extended from 19.5" up to 32", it will also accomodate a wide range of racks.