SMK-980 Series Console KVM Switch
17" or 19" LCD, 8-port KVM Switch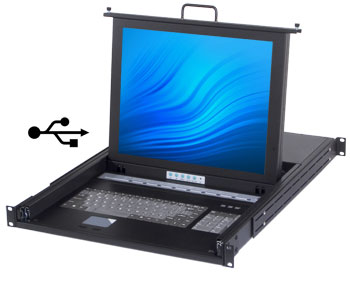 Rack mount console with 8-port video-keyboard-mouse switch.
PS/2 only model and dual interface model supporting USB and PS/2 input devices.
200 MHz bandwidth, high quality video switching supporting up to SXGA (1280x1024) resolution.
Easy access control buttons for KVM switch and LCD on-screen-display menu.
17" or 19" flip-up flat panel LCD monito

Server rack LCD console with 8-port USB KVM switches

The SMK-880 series rack LCD console with 8-port USB KVM switch lets you monitor rackmount servers using a single monitor and USB keyboard mouse. SMK-880 rack LCD console features a 17 inch flip-up flat panel LCD monitor, USB keyboard and touchpad mouse. USB keyboard and mouse are hot-pluggable, easily recognized and configured by the operating system, and the PC usually provides 4 or more USB ports for peripheral devices. The 8-port USB KVM switches supports USB keyboard and mouse interface.

r with anti-glare tempered glass for added protection, 1280 x 1024 pixels resolution.
500:1 contrast ratio and 300 nits brightness LCD panel.
Ball-bearing slideout rails with locking clip.
Adjustable mounting brackets accomodates 24.75" to 38.0" rack depth.
One rack unit high clamshell design.
KVM console supports both PS/2 and USB keyboard and mouse.
8-port KVM switch lets you manage up to 8 computers. Unit ships with 8 KVM cables.
Comes standard with USB cable. Optional PS/2 cable for use with PS/2 keyboard/mouse interface. Ask for PS/2 cables at time of ordering.
Ordering Information:
SMK-980S17 (17" LCD, PS/2)
SMK-980S17D (17" LCD, Dual interface)
SMK-980S19 (19" LCD, PS/2)
SMK-980S19D (19" LCD, Dual interface)
Space-saving 1U Monitor Keyboard Rack Console
The SMK-980 series is a rack mount consoles featuring a combination of a flip-up LCD monitor, keyboard, touchpad mouse and 8-port KVM switch in a space-saving clamshell design. They are rack-mountable and fit in a standard, 19-inch rack configuration. They are low-profile, taking up just 1 rack unit space. The LCD monitor keyboard drawer is constructed of metal for ruggedness. The slide-out panel and keyboard tray is shipped with ball-bearing slide rails already mounted on the unit. Rack mounting brackets can be extended from 24.75" up to 38.0" accomodating a wide range of equipment racks with different depth. And its low power consumption leaves more power for servers and storage.
With its clamshell design, the keyboard tray slides out for LCD and keyboard access and remain hidden when not in use. The LCD panel flips up for use and folds down for storage.
PS/2 or Dual Interface 8-port KVM Switch
In a typical data center server racks consist of several different computer systems, it is important that they can be administered from a central console. This is where the keyboard monitor mouse switch can prove invaluable, since it enables the keyboard, monitor and mouse to be switched between the various individual computers.
The SMK-980S17 and SMK-980S19 come with an 8-port console KVM switch for PS/2 input devices. The dual interface models SMK-980S17D and SMK-980S19D support both USB and PS/2 input devices using different KVM cables. They are convenient solutions for controlling multiple computers. The KVM switch supports hot plugging of systems (USB interface only) and features auto-scanning of connected systems and systems on daisy chained installations. It has an 8-character password security feature that ensures only authorized users can view and control connected PCs or servers. The convenient and easy-to-operate KVM switch controls all ports using hotkeys or the mouse-driven OSD (On-Screen Display) menus.
17- or 19-inch TFT LCD
The SMK-980S17 comes with a 17 inch SXGA (1280 x 1024 pixels) flat panel LCD monitor. The SMK-908S19 has a 19 inch LCD with the same resolution. A set of on-screen-display (OSD) control buttons located on the front bezel provides adjustments for the display. There is also a switch to turn off the backlight to prolong the service life of the LCD monitor.